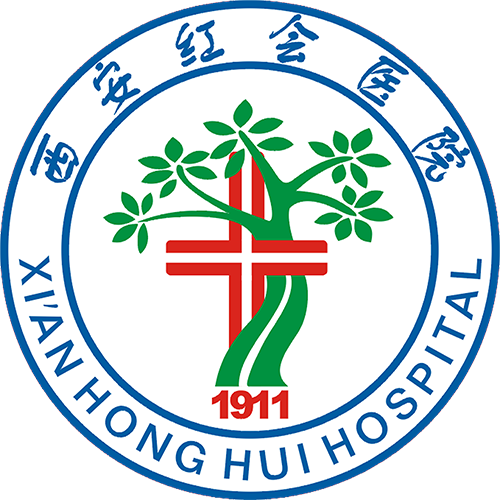 Interpretation of hospital badge:

The badge consists of three parts: a circle of blue lines embracing a big green tree with flourishing branches and leaves tightly wound around a Red Cross, embodying three colors: red, green and blue.
1. The circular pattern composed of blue line has Chinese and English name of our hospital. Blue represents a quiet and peaceful atmosphere, which conforms to the theme of life saving in the hospital. The name of our hospital is abbreviated as "Xi'an Honghui Hospital", which is concise, clear and catchy, and easy to distinguish from other "Red Cross Hospital" in order to improve public awareness. The use of Founder Shu font inherits the font used in all kinds of propaganda by our hospital in the past.
2. The big green tree and the word "1911" closely intertwined with the Red Cross indicate that our hospital was established in 1911 when the Revolution of 1911 broke out and developed from the battlefield medical rescue team of the Red Cross Society of China. As the eternal theme of our hospital, the Red Cross has become the center of the badge, which is in line with the historical reality of our hospital.
3. The curved trunk of the tree and the Red Cross constitute a symbol of international orthopaedic medicine (Orthopaedics) and highlights the professional advantages of
our hospital as one of the three major orthopaedics centers in China. The flourishing branches and leaves imply the idea of balanced development of internal medicine, surgery, gynecology and pediatrics supported by Orthopaedics of our hospital.
Interpretation of combined pattern:
The Red Cross is the representative pattern of the medical industry, which has a high recognition rate and reflects the characteristics of the industry using the logo.
Green tree is a symbolic pattern of Orthopaedics, of which figure explains that a small bent tree is corrected by a wooden frame, which is an abstract pattern of Orthopaedics.
Chinese and English abbreviations are added to the outer circle to enhance the recognition and international communication of the logo.
Hospital motto: keeping self-discipline, working perseveringly, being innovative and harmonious
Our service concept: patient-first